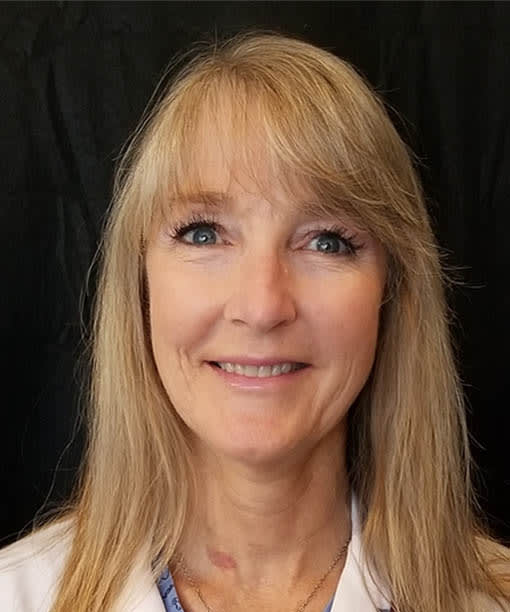 Dr. Cheryl Langbein
Dr. Langbein is a California native and hails from Davis, California, though she now happily resides on her 2-acre ranchette in Santa Rosa with her husband, Tom.
Her interest in becoming a veterinarian started early as her father is a veterinarian and was a Professor of Respiratory Physiology while she was growing up. While a young child she observed some of her father's classmates at work in their clinics and it was at this point she decided her love of veterinary medicine would veer away from academia and toward general practice.
She received both her Bachelor of Science degree in Wildlife and Fisheries Biology and her Doctorate in Veterinary Medicine from UC Davis. After graduation she completed an internship in Small Animal Medicine and Surgery at The Sacramento Animal Medical Group. Dr. Langbein is a member of AVMA, CVMA, REVMA, AERC, FEI, USEF, AHA, and CAAA. She is a certified AERC endurance veterinarian, and an accredited Public Health Veterinarian. She was a member of the United States Equestrian Team and an Assistant Veterinarian at the 1996 World Equestrian Games in France, and at the 2000 World Endurance Championships in the United States. She competed at the 2008 World Endurance Championship in Malaysia on her beloved horse, Reason to Believe.
She has dedicated herself to practicing high quality small animal with some exotic animal medicine and surgery for the last 35 years. Part of the joy she has found in practicing veterinary medicine is having the opportunity to practice a variety of specialties. She loves the challenge of internal medicine and finds it very exciting to follow the clues and put together the pieces of the diagnostic puzzle of a disease process. Performing surgery gives her a feeling of accomplishment and satisfaction by using her mind as well as her hands to cure or improve an existing condition. She especially loves connecting with people and their pets and is incredibly grateful to have the ability to make a difference in their lives.
In her spare time, Dr. Langbein enjoys hiking, biking, endurance horse racing/riding, running, skiing, camping and traveling. In addition to staying active outdoors, Dr. Langbein has several pets at home that help keep her busy. She has two dogs, German Shepherd Annika and Jack Russell Terrier-cross Skylar. One cat, a tabby named Pivo. One horse, an Arabian named Reason to Believe, and two goats, Will and Bree.
Dr. Langbein truly enjoys being a veterinarian and she feels very blessed to be able to devote her life to the career she loves.