Dr. Steve Diehl is a veterinarian at Montecito Veterinary Center in Santa Rosa. He practices general medicine and surgery on dogs and cats.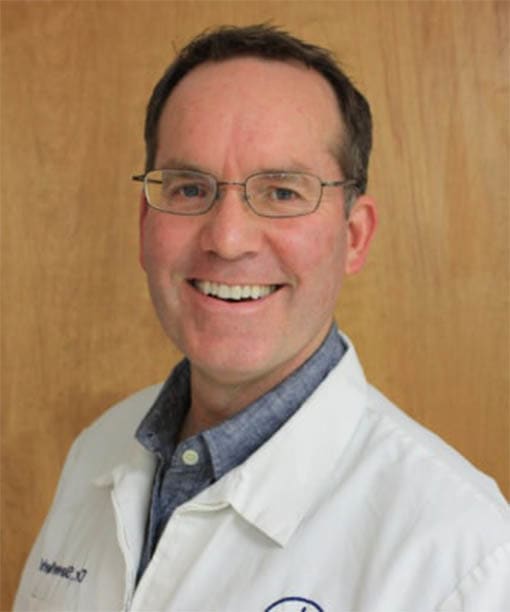 Dr. Steve Diehl
As a young boy, Dr. Diehl loved having pets, and his first job was working as an animal keeper assistant at Marineland in Los Angeles. As a teenager, Dr. Diehl recalls his parents taking him to visit Guide Dogs for the Blind in San Rafael. He was enthralled with the work these dogs performed and, given his interest in biology and science, thought the best job in the world would be to take care of these dogs as a veterinarian.

Dr. Diehl was trained at the University of California, Davis, where he earned a Bachelor's Degree in Animal Science, a Masters Degree in Animal Physiology, and finally a doctorate in Veterinary Medicine in 1992. After completing his education, Dr. Diehl spent 6 years at a large small animal emergency and specialty practice in Santa Rosa, and fell in love with Sonoma County.
Dr. Diehl served as National Veterinarian for the non-profit assistance dog agency, Canine Companions for Independence (CCI), working from the national headquarters in Santa Rosa. After working as a regional Senior Technical Services Veterinarian at Bayer Animal Health, he returned to private practice and, since 2010, has treated pets at Montecito Veterinary Center.
Dr. Diehl practices general medicine and surgery, mostly on dogs and cats, and especially enjoys the challenge of discovering the underlying cause of a pet's medical problem. His clients appreciate his compassionate and thoughtful style. He feels very fortunate to be a practicing veterinarian in Sonoma County and especially appreciates and admires the professionalism and dedication of the staff at Montecito Veterinary Center.
Dr. Diehl is a member of the American Veterinary Medical Association, the California Veterinary Medical Association, and the Redwood Empire Veterinary Medical Association.
Dr. Diehl enjoys spending his free time with his wife and 3 children, as well as a black lab (released from the CCI program) named Sienna, two cats named Violet and Benny, two miniature donkeys, and several chickens. His hobbies include cycling, kayaking, and rafting.